Custom Walleye tackle and specialty walleye jigs; walleye jigs are our specialty! The walleye, pike and perch fisherman's choice for quality jigs and tackle.
We make walleye jigs, hooks and tackle that you will not find anywhere else!
General Information, Sales & Customer Support: PHONE 587-332-0356 or email us: fishing@memlane.com
Wally walker jig - walking weights with Eagle Claw hooks - with or without a trailer /stinger clip
Bait your "Wally walker" jig and run a floater or floating spinner rig from the trailer clip or run the clip-free model below a three way swivel or as a slip sinker and run your spinner blades behind . You will be suprised how many fish you caught on the "Wally walker" plus you're still running your floaters and blades too! We are presently producing the 1/8, 3/16, 1/4, 5/16, 3/8 oz & 1/2 oz sizes.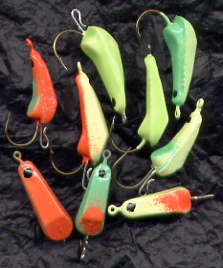 No trailer clip $1.49 each - with trailer clip $1.79 each
also available in our TOURNAMENT GLOW colors without eyes.

Sparkin jigs - standup (hookup) style jigs with Eagle Claw 570 hooks. 1/16, 1/8, 3/16 & 1/4 oz.
The perfect hookup style jig for all conditions! (they had to be taped in scan below to keep them from standing up)
Top notch walleye jigs with Eagle Claw 570 hooks designed for fishing the bottom where the big eyes live.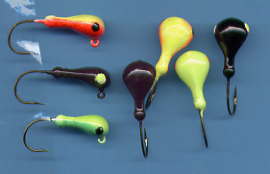 All sizes above $.99 each (your choice of up to two colors with eyes)
1/16 - 570 #2 hook, 1/8 - 570 #2 hook, 3/16 - 570 #1 hook, 1/4 - 570 #1/0 hook

General Information, Sales & Customer Support: PHONE 587-332-0356 or email us: fishing@memlane.com
NEW Saltwater Jigs PAGE
General Information, Sales & Customer Support: PHONE 587-332-0356 or email us: fishing@memlane.com