CUSTOM JIGS - PAINTED LEADHEADS
FOR CUSTOM PAINTED LEADFREE JIGS USE THIS LINK - LEADFREE
LEAD FREE BISMUTH ALLOY - $22.00 per pound (over 80% BISMUTH)
General Information, Sales & Customer Support: PHONE 587-332-0356 or email us: fishing@memlane.com
Custom Custom painted fishing jigs, you choose the color and jighead style. Unpainted jigs and Eagle Claw hooks. Our quality is high our prices are low!
available in these styles. JIGHEAD CHOICES page
Your choice of Eagle Claw® jighook styles & sizes is also available on custom jigs. Style 570, 574 and 630 jighooks to choose from.
Walleye Specialties - Saltwater Jigs
Please check with us for freight charges on jigs orders.
Please contact us directly when ordering any CUSTOM JIGS.
General Information, Sales & Customer Support: PHONE 587-332-0356 or email us: fishing@memlane.com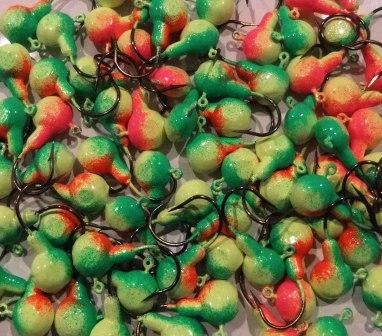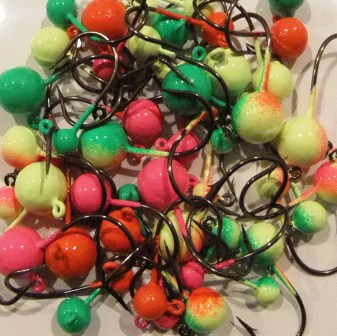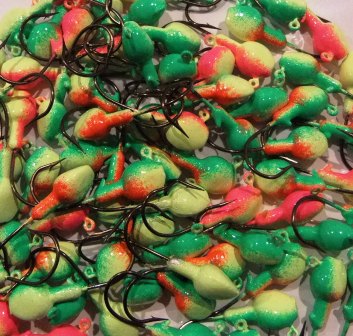 LEADHEAD JIG PRICES BELOW

100 single color jigs (no eyes) as above - mixed colors / mixed styles
$59.95 + shipping
New - TOURNAMENT GLOW - over white basecoat (long lasting glow!)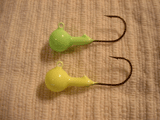 100 Tournament Glow jigs (no eyes) in our new long lasting glow
$99.95 + shipping
100 Sourdough Bay Special
You pick the (base color, center color, top color, top glitter, back stripes and double eyes)
AS SHOWN - 1/4 oz Shad Dart with Eagle Claw 630 2/0 hook (actual weight approx. 1/3 oz.)
$179.95 + shipping
Our Heat-N-Dip jig paint is virtually odorless. When fishing is tough you know that the solvent smell of the paint that is used on many commercial jigs is not present on our product. This solvent smell exists for months after vinyl coated jigs are painted!
We have an excellent selection of JIGHEAD CHOICES available, many featuring extra strong EAGLE CLAW 630 hooks.
Payment by PAYPAL is now avaliable.
Please contact us by email when ordering custom painted jigs.
all 1/8 oz and smaller jigs $.70 ea unpainted
1/4 oz jigs $.90 each unpainted, 1 color $1.00 each
General Information, Sales & Customer Support: PHONE 587-332-0356 or email us: fishing@memlane.com
General Information, Sales & Customer Support: PHONE 587-332-0356 or email us: fishing@memlane.com